Visa® Classic Secured Card

Get all the benefits of a credit card while you build or restore your credit.
With a Visa® Classic Secured Card from San Francisco Credit Union, you get so much more. You get a great interest rate without an annual fee and the added benefit of building your credit while you spend money on everyday purchases.
Our Visa® Classic Secured Card comes with many of the same benefits that our other credit cards come with, including:
VisaⓇ Classic Secured Card Rates
CARD TYPE
RATES AS LOW AS
ANNUAL FEE
BEST FOR
VisaⓇ Classic Secured Card
9.99% APR*
(based on Prime)
None
Someone who wants to build or rebuild their credit.
View Consumer Lending Rates PDF
VisaⓇ Classic Secured Card FAQs
How does a secured credit card work?
You establish your secured card account with a deposit when you open it. Each month when you make changes and pay off your balance, your credit begins to improve. If something happens and you can't make the payment, your deposit goes to cover your payment.
Is this card compatible with digital or mobile wallets?
Yes! Using your card should be convenient, and it is with our Visa® cards. They are all ApplePay, Android Pay, and Samsung Pay compatible.
What kind of fraud protection does the Visa® Classic Secured card offer?
Our cards are equipped with protective features to keep your financial life running smoothly. You will enjoy all of the protection offered by Visa®, including travel protection and emergency assistance. We also offer loan protection and Financial Hardship Assistance for unexpected life events or expenses.
Is there an annual fee with this card?
No. We don't think you should have to pay to use our credit cards. So we never charge the kind of fees that the big banks often charge.
How long does it take to build credit with a secured card?
It usually takes about 30-45 days for your new account to be reported to the credit bureaus. From there, each month that you pay off your card balance (and your other bills on time, too), your credit builds.
Other San Francisco Credit Union VisaⓇ Credit Cards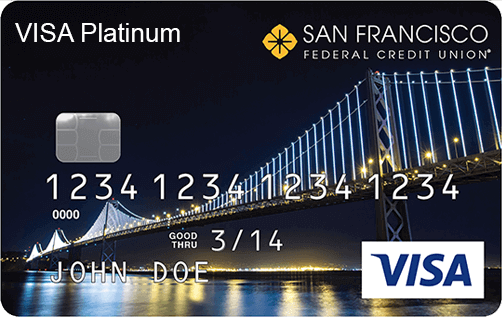 VisaⓇ Platinum Rewards Card
Get our best rate and earn 1% cash back for everyday purchases with our VisaⓇ Platinum Rewards Card. You'll also never pay annual fees to use the card.
VisaⓇ Student Platinum Rewards Card
Being a student has its benefits. With no annual fee and cash back for every dollar you spend, this is the only card you'll need through high school and college.
Member Reviews
"I applied for a credit card last week and was approved within a matter of days! The application was only pending for three days. The interest rate was so low and the reward program of 1% will be something I will cash in on every year!"

Mary S.

"San Francisco Federal Credit Union has a great employee who really exemplifies why customers patronize particular banks. Back in October of 2020, I ran across a Honda Accord that I wanted to purchase. I had shopped around at different banks but was unsatisfied with their service. I decided to give SFFCU a try and I ever so grateful! The Credit Union representative was the credit card agent who assisted me and was very effective in helping me with approval. He was very patient and efficient in explaining the terms of the credit card award program process. I felt comfortable and at ease working with him. Also, when looking at my credit, he saw that I had a Bank of America credit card that had a higher interest rate than what SFFCU had and recommended that I also use Online banking to pay with credit card payment.  This card and this credit card helped to boost my credit score. He has followed up with me to make sure that I was happy with the card program.  I am forever grateful for what the credit union representative did for me, and I look forward to doing business with SFFCU again."

Bill F.

"Had an easy-going and satisfied service with a Bank Associate. They helped me out from start to finish on my credit limit increase with a lower interest rate as well. Recommend this place for all locals and those with small businesses as well."

"My husband and I recently applied for a San Francisco Federal Credit Union credit card through service representative. The branch Manager was an excellent service representative. They explained very clearly what we needed to do to achieve our goal. They were extremely responsive to our questions and to sending us appropriate forms and to taking care of their end of the transaction. I give them my highest praise for doing an excellent job."

Laurel Y.

"SFFedCU helped me out last week with a personal loan and [the representative] noticed that my credit card APR was 5.6%, which in my opinion I thought it was pretty good. But she went far beyond…and lowered my interest rate to a 3.2%. That is totally amazing. She also was able to increase my credit limit."

Ramon M.
*APR=1Annual Percentage Rates. For all loans, the actual annual percentage rate is determined at the time a credit decision is rendered and may be higher than the lowest rates available. Credit history, loan terms, and the amount borrowed are all factors that determine the rate. Not all borrowers will qualify for the lowest rate. There are NEVER any prepayment penalties for repaying your loan early. All loans are subject to credit approval. As of the date of this disclosure, the Prime Rate is 3.25%.
** San Francisco Federal Credit Union VISA® Platinum Rewards Terms and Conditions: Rewards (also known as "rebates") are earned by making purchases with your San Francisco Federal Credit Union Visa® Platinum Rewards Credit Card. You can earn a reward of one percent (1%) on purchases at locations throughout the world that accept Visa®, up to $500 per year. All rewards earned will be reflected in your quarterly billing statement and will be automatically and annually redeemed every May 31st by applying the rewards as a deposit to your Regular Share Account. Your rewards will not expire. Purchases returned for credit do not earn a reward, and your balance will be adjusted in the event that the purchase is returned or a credit adjustment is otherwise issued. Your account must remain open and not be in default under any card agreement in order to earn and redeem rewards. Rewards are not earned on cash advances, balance transfers, fees, loan balances or finance charges. All rewards that have been accumulated, but have not yet been paid, will expire upon termination of your San Francisco Federal Credit Union Visa® Platinum account, whether terminated by you or us. We are not responsible for reward-related disputes between joint account holders and/or between account holders and authorized users. Excludes Visa® Classic card. Must be at least 18 years old to apply.
No interest charge for 25 days on purchases only. Interest on cash advances and balance transfers begin on transaction date.
There is no fee for any balance transfer that posts to your account during the first 60 days from the date opened. Any balance transfers posted to your account after the first 60 days will be charged 1% of the amount transferred. Excludes Visa® Secured.
Foreign Transaction fee up to 1% (per transaction in US Dollars) waived for Visa® Platinum Rewards cards only.