---
At San Francisco Federal Credit Union, we believe in providing our members with the best financial products and services for smart purchasing habits. That's why we offer an array of credit card options, each with a unique set of benefits to best meet your personal needs. The thing they all have in common? Unbeatable rates – as low as 8.45 % APR.*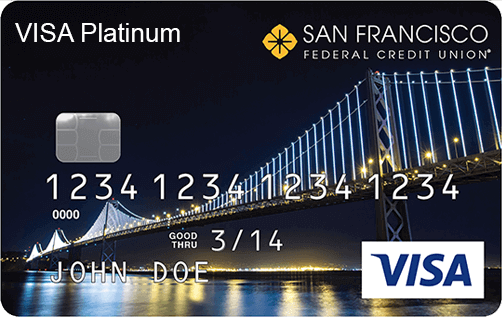 Visa Platinum Rewards**
Earn 1% cash back for everyday purchases
Rates as low as 8.45% APR
No Annual Fee
No Balance Transfer Fee
No Foreign Transaction Fees
No Interest Charged for 25 days
Low monthly payments of only 1% of account balance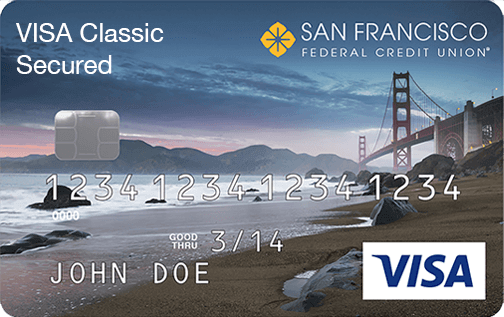 Visa Classic Secured
To help members establish or reestablish credit
15.24% APR (based on Prime)
No Annual Fee
No Interest Charged for 25 days
ApplePay, Android Pay, Samsung Pay
Visa Student Platinum Rewards**
Earn 1% cash back for everyday purchases
12.99% APR (based on Prime)
No Annual Fee
No Balance Transfer Fee
No Foreign Transaction Fees
No Interest Charged for 25 days
---
Rates
Credit Card Products
Visa Products

| Product | As Low As APR¹ % |
| --- | --- |
| VISA® Platinum | 8.45% to 17.99% |
| Signature Line of Credit | 12.25% to 17.99% |
| Student Visa | 12.99% to 17.99% |
Last Updated: 09/01/2023
1Annual Percentage Rates. For all loans, the actual annual percentage rate is determined at the time a credit decision is rendered and may be higher than the lowest rates available. Credit history, loan terms, and the amount borrowed are all factors that determine the rate. Not all borrowers will qualify for the lowest rate. There are NEVER any prepayment penalties for repaying your loan early. All loans are subject to credit approval. As of the date of this disclosure, the Prime Rate is 8.50% APR as of 09/01/2023.
More Financial Tools for You
Personal Loans
Borrow as little as $500 and use the cash for any purpose. Choose your loan term and get a competitive APR for an affordable monthly payment.
Personal Line of Credit
Get a credit line of up to $50,000 to pay for ongoing projects and expenses. Only pay interest on the funds you use!
Debt Consolidation Loans
Simplify your life by paying off other debt so you have just one monthly payment. Get a great, fixed rate for up to 84 months.
---
Peace Of Mind For Your Plastic
Your card is equipped with protective features to keep your financial life running smoothly. You will enjoy all of the protection offered by Visa® including travel protection and emergency assistance. Additionally, we offer loan protection and Financial Hardship Assistance for unexpected life events or expenses.
Fraud Prevention Tips to protect your credit cards
Avoid using the same password for multiple credit cards/accounts
Don't wait to report lost or stolen credit cards
Keep credit card receipts to compare purchases via online banking
Shred papers containing sensitive credit card information such as credit card statements
When shopping online, avoid clicking on suspicious links/websites
Protect your pin and never store them with your credit cards
Review your credit report regularly to find irregularities
---
Resources for cardholders
Making the right financial choices when swiping your credit cards require having the necessary tools and resources at your fingertips. At San Francisco Federal Credit Union, we offer financial tips and guidance to ensure that you're able to take full advantage of your credit cards in the best possible way.
Contact Us for more information or call 415.775.5377
*APR=Annual Percentage Rate. APRs accurate as of September 1, 2023. Variable rate loan, max. APR 17.99%. No annual fees. Regular variable APRs 8.45% to 17.99%, subject to change.
** San Francisco Federal Credit Union VISA® Platinum Rewards Terms and Conditions: Rewards (also known as "rebates") are earned by making purchases with your San Francisco Federal Credit Union Visa® Platinum Rewards Credit Card. You can earn a reward of one percent (1%) on purchases at locations throughout the world that accept Visa®, up to $500 per year. All rewards earned will be reflected in your quarterly billing statement and will be automatically and annually redeemed every May 31st by applying the rewards as a deposit to your Regular Share Account. Your rewards will not expire. Purchases returned for credit do not earn a reward, and your balance will be adjusted in the event that the purchase is returned or a credit adjustment is otherwise issued. Your account must remain open and not be in default under any card agreement in order to earn and redeem rewards. Rewards are not earned on cash advances, balance transfers, fees, loan balances or finance charges. All rewards that have been accumulated, but have not yet been paid, will expire upon termination of your San Francisco Federal Credit Union Visa® Platinum account, whether terminated by you or us. We are not responsible for reward-related disputes between joint account holders and/or between account holders and authorized users. Excludes Visa® Classic card. Must be at least 18 years old to apply.
No interest charge for 25 days on purchases only. Interest on cash advances and balance transfers begin on transaction date.
There is no fee for any balance transfer that posts to your account during the first 60 days from the date opened. Any balance transfers posted to your account after the first 60 days will be charged 1% of the amount transferred. Excludes Visa® Secured.
Foreign Transaction fee up to 1% (per transaction in US Dollars) waived for Visa® Platinum Rewards cards only. The monthly minimum payment is 1% of the total balance due or $15.00, whichever is greater.
---
FAQs
How do I get my rewards?
The reward amount goes back to the member's S1 (savings) account
When will I receive my rewards?
You will receive credit card rewards once a year, in June.
What happens to my rewards if my credit card is closed?
You will forfeit any accumulated rewards if your account is closed or in default.
---
Member Reviews
"I applied for a credit card last week and was approved within a matter of days! The application was only pending for three days. The interest rate was so low and the reward program of 1% will be something I will cash in on every year!"

Mary S.

"San Francisco Federal Credit Union has a great employee who really exemplifies why customers patronize particular banks. Back in October of 2020, I ran across a Honda Accord that I wanted to purchase. I had shopped around at different banks but was unsatisfied with their service. I decided to give SFFCU a try and I ever so grateful! The Credit Union representative was the credit card agent who assisted me and was very effective in helping me with approval. He was very patient and efficient in explaining the terms of the credit card award program process. I felt comfortable and at ease working with him. Also, when looking at my credit, he saw that I had a Bank of America credit card that had a higher interest rate than what SFFCU had and recommended that I also use Online banking to pay with credit card payment.  This card and this credit card helped to boost my credit score. He has followed up with me to make sure that I was happy with the card program.  I am forever grateful for what the credit union representative did for me, and I look forward to doing business with SFFCU again."

Bill F.

"Had an easy-going and satisfied service with a Bank Associate. They helped me out from start to finish on my credit limit increase with a lower interest rate as well. Recommend this place for all locals and those with small businesses as well."

"My husband and I recently applied for a San Francisco Federal Credit Union credit card through service representative. The branch Manager was an excellent service representative. They explained very clearly what we needed to do to achieve our goal. They were extremely responsive to our questions and to sending us appropriate forms and to taking care of their end of the transaction. I give them my highest praise for doing an excellent job."

Laurel Y.