San Francisco Federal Credit Union is excited about our new Online Banking and Mobile Banking platform. On this page, you will find a series of frequently asked questions along with several How-to videos to assist you in using the system.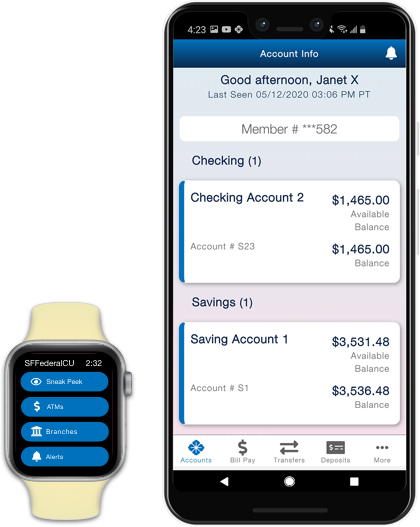 Mobile Banking
Pay Bills
Schedule or Cancel Payments
Deposit Checks Faster
Check Balances
24/7 Account Access
Easily Transfer Funds
Push Notifications
Enhanced Security and Safety
---
Express Line Voice Banking
Express Line is an easy and convenient service which allows you access to your account 24 hours a day, seven days a week. By using Express Line, you are able to perform a variety of transactions, such as:
Balance inquiries
Account deposit and withdrawal inquiries
Account transfers
And more
24-Hour Telephone Banking 415-775-0171
Toll-Free Number 800-746-9600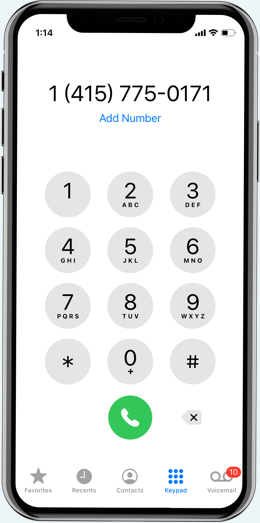 ---
If you believe you have been a victim of identity theft, read this Identity Theft Recovery Guide and please call us at 415-775-5377.
---
See How Digital Banking Works
Or select one of the videos
New User Tutorial
Making a Transfer
Alerts and Notifications
Updating Personal Information
Updating Account Settings
Choosing Electronic Statements
Making Transfers on
Mobile Banking
Depositing Checks on
Mobile Banking
Account Transaction Details on
Mobile Banking
---
Digital Banking FAQs
Why is San Francisco Federal Credit Union making the change to a new platform?
This upgrade brings you an easy-to-use interface with many new features. Updated multi-factor authentication and passcodes offer the best security for your peace of mind.
Do I need to download a new app for mobile banking?
Yes, you will need to delete the old SFFedCU app and download the new app from one of the app stores.
What if I've never enrolled in online banking?
You can easily enroll from our home page. Simply click the "I Am a New User" link.
Does digital banking have biometric login options?
Once you are enrolled, fingerprint and face ID will be available depending on your device. The new platform will automatically identify the type of device you are using to log in and will present the correct options.
What are the username and password requirements?
Username requirements are:
Must not be the same as your account number or password
Must be between 6 and 20 characters long
Must start with a letter

Password requirements are:
Must not be the same as your account number or username
Must be between 8 and 32 characters long
Must contain at least one numeric character
Must contain at least one letter
Must contain at least one special character
Do I need to reset my bill pay accounts?
No. Bill pay and any recurring payments have been automatically converted to digital banking. A mobile phone number must be present on your account and cookies must be enabled for bill pay to link properly.
In the previous system, I was able to request a check to myself. Why is this option no longer available?
The new vendor does not have this option available. We will be happy to assist you with this request over the phone at 415-775-5377 or you may visit one of our local branches.
How come I am not able to see my full account number to use for ACH, wires and/or direct deposit?
Our current core system and the new online and mobile banking system are not compatible in this area. Once we go to the new core system this August, your full account number will be displayed within online and mobile banking. Until then, if you need your full account number, please call us at 415-775-5477 or visit a local branch.
When do I start using the new platform?
We convert to our new digital banking solution soon.
Is the login process different?
For your safety and security, you will receive a one-time password (OTP) when you enroll and when you log in for the first time.
What if I haven't used mobile or online banking in the past 6 months or more?
You will need to enroll as a new user. Simply click the "I Am a New User" link.
Will I need to recreate my scheduled transfers?
If you currently have any scheduled transfers (recurring or future-dated), those will automatically transfer to the new system.
Will I need to reset my alerts?
Transaction alerts and balance alerts will automatically transfer to the new system. The alert configuration in the new digital banking system has significantly more options available, so we recommend reviewing the new settings in the system.
What are the browser requirements for the new platform?
For online browsers:
Chrome, Edge, Firefox and Explorer, the current stable version and previous two versions (provided the browser maker supports those versions).

For mobile apps, minimum requirements are:
iOS: 11.0
Android: 5.0 (Lollipop API level 21)
Why am I no longer able to access the Big Picture?
Prior to changing to the new system, the Credit Union completed an analysis and identified that a very small population utilize this service and a decision was made to discontinue it. There are many services available for you and the Credit Union will continue to evaluate other products that we may want to introduce at a later time.
How come I am no longer able to put a description in my transfers to another member with the Credit Union?
This feature will be available again when we complete our core system conversion this August. Our current core system and the new online and mobile banking system are not compatible in this area.
Contact Us for more information or call 415.775.5377
Member Reviews
"This is a shout-out to praise the Lakeside Branch Manager. Thank you for helping me in trying to get in touch and communicate with the online bank that fraudulently received funds from my account at the SF Federal Credit Union. She went out of her way to find a solution in retrieving the funds from that scam bank. I am still working on the retrieval of the funds."

Bong B.

"Your Online and Mobile Banking platform is the most stable and reliable platform I have used.  The fact that I get downloads so often I know you are improving the product and protecting my security with each update."

Susan L.

"The branch manager at Golden Gate branch set me up as a member and helped me figure out how to improve my credit score. She was super! friendly, kind, and knowledgeable. I'm looking forward to banking at SFFCC! "

Larry V.

"The branch representative has been amazing! Great customer service. She was helpful in opening an Online banking and Mobile account. I always look for her at the branch as she is the best at her job. She's so helpful and has so much experience."

Tom R.

"Wow this was the best experience at any financial institution I have been in !!! very informative and simple clear financial options made easy to understand by one of the financial representative at Golden Gate Branch helped me. He was listening to my needs and future goal plans which made my experience a breeze with no waiting lines as well . Thanks again SanFranciscoCU fam!  Much appreciated and look forward to a long term membership."

Tony G.

" I don't bank here, but wanted to use their ATM, unfortunately there was a verbally aggressive homeless man fighting w/ a woman about her bike. He wouldn't leave the area of credit union, so I walked in & informed the employee's of the situation. All 3 employee's were very proactive in removing him. A male employee offered to stand w/ me at the ATM till I was done, he helped me feel safe. The 2 female employee's were also very supportive standing at the door, safety in numbers. I am so appreciative of these employee's, they all took the initiative in this ugly encounter. They are truly assets to the company, hope your manager commends for your efforts. Thank you so much, pls stay safe"

Sandie G.

"I just want to give a Big Thank You to the Digital Sales and Service Representative for the San Francisco Federal Credit Union. She was so polite and had super great customer service. She made my process of applying for a new Via Platinum Credit Card go smoothly and was also very patient with me, making sure I had all the documents needed to get qualified. Thank you sooo much!"

Kendra C.

"The digital Service Representative was easy to work with, very responsive and kept checking in on my to make sure everything was going smoothly. I look forward to working with her further."

Darrell W.
---